by Mike Baños
When Nestlé Philippines, Inc. (NPI) launched its roadmap in 2021 to attain net zero greenhouse gases by 2050, it pledged to transform its operations by running all of its factories and offices in the country on renewable electricity.
Barely two years later, it has attained that lofty goal in partnership with Mindanao Energy Systems (Minergy) and Cagayan Electric Power & Light Company (CEPALCO) with the full transition of its Cagayan de Oro factory to renewable electricity.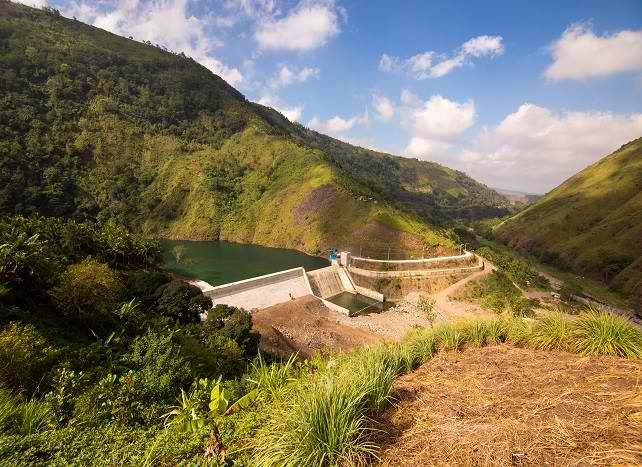 Minergy's Cabulig Mini HE power plant in Plaridel, Claveria, Misamis Oriental is capable of suppling Nestel PH Cagayan de Oro Factory with RE year round. (Photo by Sta Clara Intl Corp)
During the signing ceremony held August 22, 2023 in Cagayan de Oro City among the three partners, NPI Chairman and CEO Kais Marzouki stressed how Nestlé brands like NESCAFÉ, Coffee Mate, Bear Brand, Milo, and Maggi will now be made at the factory using renewable electricity in fulfillment of the company's "net zero commitment" to transform factory operations, a goal once considered as "too ambitious."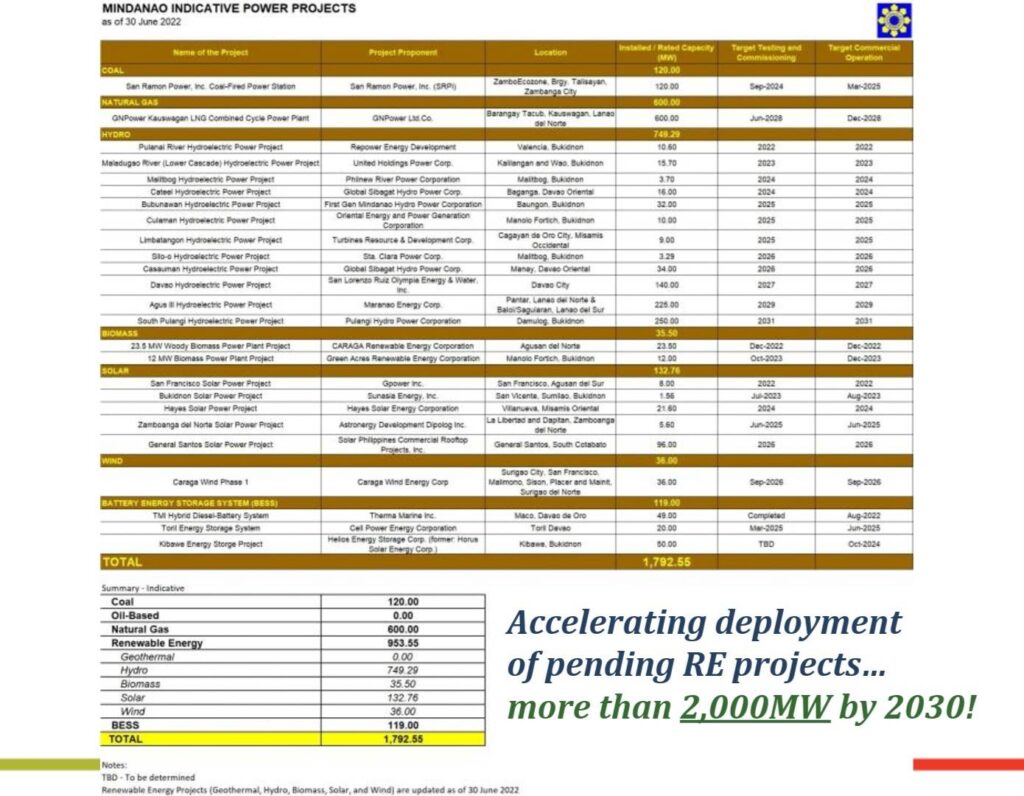 Indicative Power Projects as of 20 June 2022 (MinDA)
 "One focus area of our net zero commitments is to transform our operations to reduce our carbon footprint. With that, a priority task for us has been to fully convert our electricity power source to renewable electricity. Today, we are happy to complete that task with our Cagayan de Oro Factory to renewable electricity," Mr. Marzouki declared.
"But it has been completed two years early, because of the dedication and perseverance of our Nestlé Philippines team, with the indispensable support and participation of our partners, especially the Department of Energy, the Cagayan de Oro City government, and those of you in the private sector. This milestone is equally yours, because you have made it possible," he said in a statement.
Challenges to RE transition
Earlier, the company set its sights on running its Cagayan de Oro factory on clean energy after successfully powering its factories in Luzon and main office in Makati City with 100% renewable electricity,
Cagayan de Oro Factory
However, unlike its other facilities nationwide, its CDO factory faced added challenges since Mindanao's power mix was dominated by coal-fired power plants and had limited access to RE.
To help address these challenges and improve RE access and service delivery in the region, Nestlé PH and the European Chamber of Commerce gathered key energy stakeholders in the public and private sectors to discuss the current energy landscape and spark collaborations to help the government meet its national RE power generation mix target of 35 percent by 2030.
Through this multi-sector dialogue and with the support of the DOE, specifically with the Renewable Energy Management Bureau, the region officially witnessed the establishment of the Wholesale Electricity Spot Market (WESM) earlier this year, paving the way for Mindanao companies to transition to renewable electricity though the Mindanao-Visayas Interconnection Project (MVIP).
Committed Power Projects as of 30 June 2022
Fortunately however, the partners were able to source Nestle's Cagayan de Oro plant's 8.5MW requirement on 100% RE through hydroelectric power sourced from Minergy's Cabulig mini-hydroelectric plant in Plaridel, Claveria, Misamis Oriental. The transition to RE hydroelectric power will save some 31, 962 metric tons of carbon dioxide (CO2) from being discharged into the atmosphere every year. (UNFCCC-CDM)
In her message delivered on behalf of Energy Secretary Raphael P.M. Lotilla, Asst. Sec. Mylene C. Capongcol stressed the Department of Energy's commitment to pursue energy transition and sustainable practices as manifested through the continuous implementation of policies and programs that promote renewable energy development and increased utilization.
"Currently, the voluntary policy mechanisms under Republic Act No. 9513 or the Renewable Energy Act of 2008 – the Net Metering Program and Green Energy Option Program (GEOP) – are now being implemented."
"The government will continue to lay the groundwork for a clean energy transition, which will pave the way for the private sector, companies, and businesses, like Nestle Philippines, to establish and achieve their net zero targets. The benefits of renewable energy provide return cost, lower carbon footprint, and help build more capacities consistent with the government's policy of encouraging renewable energy to generate a bigger share of the energy mix and a solid contribution to nation-building."
Future of RE in Mindanao
Mindanao Development Authority Assistant Secretary Romeo Montenegro said Mindanao is looking forward to an additional 2,000 MW of RE between 2023-2028, with 400MW committed and 1,600MW indicative projects, in addition to the 1,400MW currently installed.
Mindanao Grid Power Capacity Mix (MinDA)
He said renewable energy is being pushed in Mindanao as the government hopes to reverse the power mix of the island, which is dominated by coal-fired power plants, to comply with the country's obligations under the Paris Agreement. The Philippines signed the Paris Agreement on April 23, 2016, and it was ratified by the Senate on March 23, 2017.
Montenegro said the island currently has a total of 4,463 MW installed capacity, of which between 2,700 and 2,800 MW is available. (Colina, 2023)
He said the power demand of Mindanao is growing at the rate of 4 to 7% annually (100MW-150MW) and would need 3,500MW of additional capacity by 2030.
Montenegro said the government is keen on meeting a 50 percent non-renewable and 50 percent renewable power mix by 2030 as stated under the Mindanao Development Framework. (Lumawag, 2021)
####