Disaster Risk Reduction and Management
One of Cagayan de Oro's pioneer river guides who have made White Water Rafting along the Cagayan River famous throughout the Philippines is now coordinating training that would bolster the capabilities of government and private rescue organizations, local government units in flash floods and swift water situations.
Chisum Christopher T. Factura, a former president of the Oro Rafters Association (OAR) has so far conducted a series of Swiftwater and Flood Rescue Technician (SRT) courses with the help of foreign experts in the Cagayan River at Barangays Tignapoloan and Dansolihon.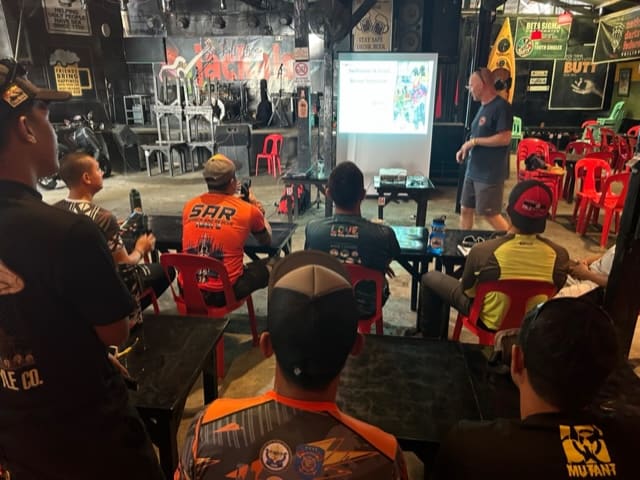 Trainor Malcolm Durnan shares the Rescue 3 Philosophy to trainees at KAGAY Outdoors.
"Since we have a river that's a perfect venue for these types of training, we want Cagayan de Oro to be known as the only place here in the country to offer such training with international certification and recognition," Factura said.
During the latest training conducted August 30-September 8, 2023, the first ever SRT course designed specifically for Rescue Personnel was conducted at the Cagayan River section near Bolao Springs with 24 participants.
GETAFIX, a certified Rescue 3 Europe training provider based in the United Kingdom conducted the training with KAGAY Outdoors, the white water river rafting outfitter operated by Factura.
Rescue trainees practice river crossing defensive swimming techniques near Bolao Springs, Cagayan River on August 30, 2023.
The SRT courses are designed to provide a training venue for Rescue personnel/organizations or any individual dealing with a "Swift Water" environment; impart preparedness and awareness for all types of challenging environments; and provide course passers with internationally recognized accreditation upon completion of the course.
Earlier this year, two courses were held on Jan 6-8 and Jan 13-15, 2023, the group conducted a Whitewater Rescue Technician – Professional (WRT-Pro) re-certification course for 3 days with 12 participants, and another course was conducted for 12 new participants, with some OAR raft guides from white water rafting outfitters BUGSAY and KAGAY.
Rescue personnel from local government units of Malaybalay City, Malitbog, Davao, Sorsogon and Laguna have also been trained by Mr. Malcolm Durnan, a Rescue 3 Europe certified SRT trainer.
Mr.-Leo-Hoare-owner-of-GETAFIX-Rescue-3-Europe-Training-Provider
The Malaybalay City – Disaster Risk Reduction Management Office Personnel (CDRRMO) had first dibs at the training with 12 participants on August 30-September 2, 2023.
They were followed by rescue personnel from Tagoloan, Misamis Oriental (six participants) and Malitbog, Bukidnon MDRRMO (three participants) and three other individuals from Davao, Sorsogon, and Laguna on September 05-08, 2023
The first training was actually conducted on January 2020 in Cagayan de Oro City with a certified Rescue 3 Europe (www.rescue3europe.com) trainer from GETAFIX (www.getafix.com) Mr. Leo Hoare, just weeks before the global pandemic shut down the whole country.
"This first Whitewater Rescue Technician – Professional (WRT-Pro) Training course was designed for Whitewater Rafting guides and River Professionals, and had 12 participants, mostly my colleagues from Hong Kong and KAGAY raft guides," Factura said. "We completed the 3 day training and were certified as WRT-Pros with a 3 year validity."
More courses are planned by the group and interested rescue organizations, LGUs, national government agencies involved with rescue operations can email rverguide@yahoo.com for more details. (Photos courtesy of Hareul Regalado)
####