By Mike Baños
Some cities are just plain luckier than others. Take Cagayan de Oro City, for instance.
There's probably no other urban center outside Metro Manila, Metro Cebu and Metro Davao which can boast of a mother and daughter tandem, both graduates of one of the world's most prestigious culinary schools, whose bistros are strategically situated in the city's downtown and uptown central business districts.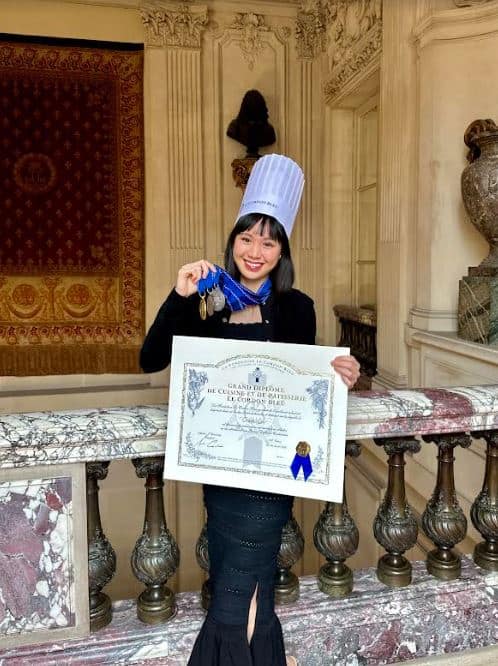 Chloe's Graduation at Le Cordon Bleu Paris
Early this month, Chloe Monique Lu opened Chloe Bakery & Café, along Fr. William Masterson SJ Avenue in the Pueblo de Oro Township in Uptown Cagayan de Oro. Chloe is the daughter of Candy Lu, who's Candy's Café & Restaurant has been a favorite hang-out of habitués of the posh Ayala Centrio Mall (and Limketkai Center previously) for the past decade and half.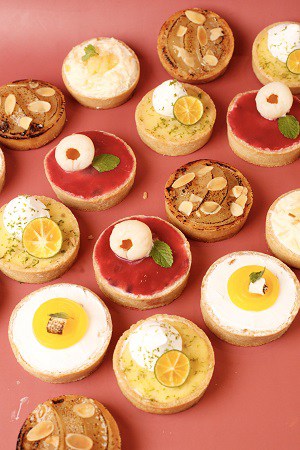 Tarts
Both are holders of Le Grand Diplôme Le Cordon Bleu in both Cuisine and Pâtisserie (Pastry & Confectionery), recognized worldwide by culinary professionals. Cuisine teaches students to master basic to advanced culinary techniques that apply to any style of cuisine, explore French culinary traditions, global cuisines and current trends. The art of Pastry & Confectionery courses range from specialized ateliers, basic through advanced levels of pastry and confectionary craft making, plated and boutique style desserts, world delicacies and precise decorating techniques.
Le Cordon Bleu is considered to be the guardian of French culinary technique through its culinary programs that continue to preserve and pass on the mastery and appreciation of the culinary arts that have been the cornerstone of French gastronomy for over 500 years.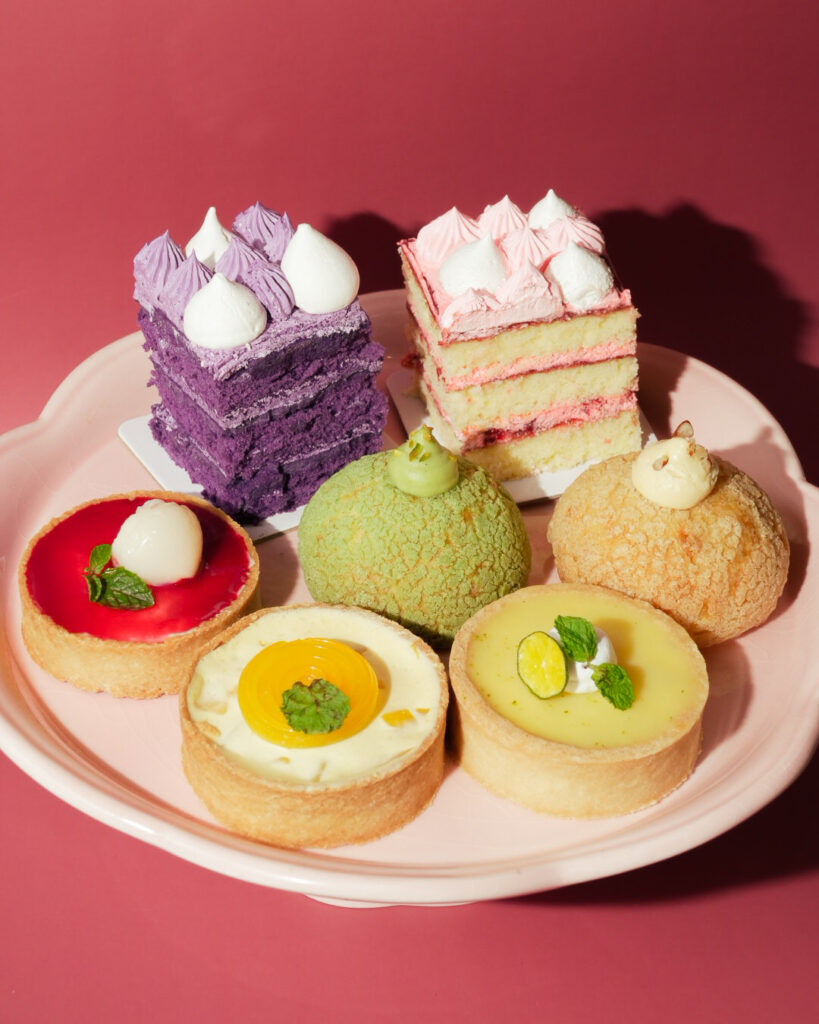 Plateful of pastries
Students are taught by Le Cordon Bleu Master Chefs, most of whom come from Michelin-starred restaurants or are winners of prestigious competitions and titles such as Meilleur Ouvrier de France (MOF). They pass on their knowledge of classic French cuisine and modern international culinary techniques to their students.
Candy initially enrolled in both Cuisine and Patisserie in Le Cordon Bleu London (because English language courses were not yet available at Paris at the time). She finished her Patisserie course in London 1995, took advance patisserie courses on 2003 in Paris and came back to finish the cuisine later on where she's often kidded by her fellow students for being the oldest!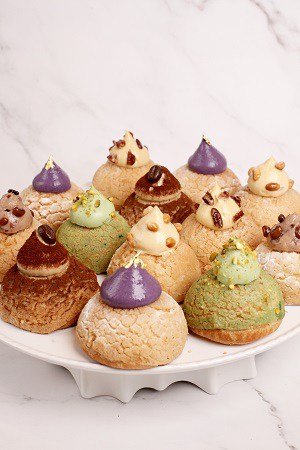 Choux Pastry
"You cannot stop learning," Candy stressed. "You can't call yourself a chef by simply going to culinary school and graduating. You need experience."
She opened her first bistro at the Rosario Arcade at the Limketkai Center, then later moved to the Ayala Centrio Mall in 2015.
Candy's specialty is French cuisine, on top of French pastries. Among her masterpieces are her Belgian Chocolate Cake, Peach Melba Cake and Tartufo. With what must be Cagayan de Oro's longest menu list, Candy's Cafe has a wide variety of dishes that could last you all week. It checks all the boxes in Trip Advisor in terms of food, service, value and atmosphere.
Since she was ten years old, Chloe already developed an interest in baking from her mom, but it wasn't until 2017 when she graduated with a degree in Business from De La Salle University (Taft Manila Campus) and handled her mom's downtown bistro during the pandemic that she realized she wanted to learn from professional teachers to become a professional chef herself.
In April 2023, Chloe finally graduated from the Le Grand Diplôme Le Cordon Bleu (Paris) in both Cuisine and Pâtisserie which she took at the same time. Mom Candy also took additional courses alongside Chloe.
Candy notes how in the interim from 2003 to 2022, the learning milieu had become totally different.
"French chefs have become more open to foreign ingredients like the usage of Asian ingredients like herbs compared to before when taught strictly French Cuisine," she noted.
Although both Candy's Café and Restaurant and Chloe's Café & Bakery follow Le Cordon Bleu's French culinary tradition and techniques, Candy's menu leans more to the classical French techniques adopted to local conditions (climate/weather) and ingredients.
On the other hand, Chloe's menu is more focused on pastries as a whole which remain French inspired but have been enhanced with local flavors like ube and sans rival; mango marshmallow, apple calamansi, and raspberry lychee tarts, and signature "dessert" drinks which are coffee-based with interesting twists such as her Espresso Spritz (basically espresso with sparkling water).
Ferrero Caramel Entremet
"I wanted to bring in a real French cake but had to experiment on it with a lot of trial and error because of our great difference from France in weather, humidity and temperature which makes it really hard to bake under local conditions," she admits.
Thus, her Choux pastries (French version of cream puff) have been enhanced with readily available ingredients – which are a must try!
While she opened her café only this August, Chloe has already been offering her pastries and confectioneries online since 2021 during the pandemic.
In a bow to patrons who look for more filling meals, she has Savory Crepes for those looking for a quick breakfast or entrée, (Filipino Breakfast, Ham & Cheese; Bacon, Mushroom & Spinach; Pesto Shrimp, Anchovy Margherita; and her best-selling Salmon & Spinach (this one I tried and really like it!) and Sweet Crepes for dessert (Vanilla Classic, Passion fruit Kiwi, Cappuccino, Apple Caramel, Mango Caramel, and Banana Chocolate).
slices cakes
Like her mom, Chloe plans to continue her education with further courses at Le Cordon Bleu but would first prioritize getting her bistro off the ground in the meantime.
Meantime, Kagay-anon and other gourmands can indulge in either or both their uptown and downtown bistros, depending on where time and circumstance takes them. We should be so spoiled, having to make a choice between these two!
####