Syndicates of illicit cigarette trades are now becoming bolder and fearless as foreign nationals are being tapped to get themselves directly involved in their efforts to sneak smuggled goods into the Philippines.
            Two Indonesia nationals were arrested by elements of the Philippine Coast Guard Southwestern Mindanao and the Bureau of Immigration (BI) in Barangay Taliac, Maasim in Sarangani Province on board a motorized vessel with smuggled cigarettes.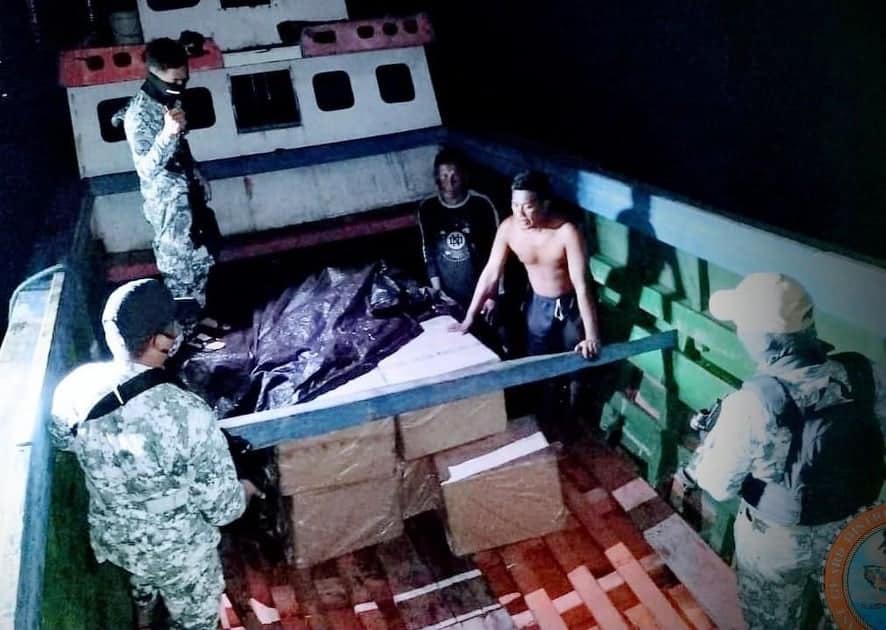 Seized were 20 master cases of smuggled cigarettes identified to be Gudang Baru, a brand manufactured in Indonesia with an estimated street value of almost P400,000 and the estimated excise tax loss to the government is placed at P600,000.
The suspects identified as Fadli Macmus and Fajar Antanari, both residents of of Tinakarang, Marore Iland, Indonesia are now undergoing inquest proceedings for violations of the Customs Modernization Tariff Act (CMTA) and the Philippine Immigration Act.
Details of their operations were not immediately known but authorities emphasized that the interception is part of the "intense, aggressive and determined effort" of the government to curb smuggling and other illicit cigarette trades in Mindanao.
In fact, a series of Mindanao-wide law enforcement activities were launched and more are lined up in the coming days.
Aside from the Sarangani enforcement, authorities seized a huge volume of smuggled cigarettes from another vessel, within the vicinity of Malita, Davao Occidental. Confiscated were over 500 master cases of assorted smuggled cigarettes with an estimated value of P20 million.
Combined efforts of Naval Forces Eastern Mindanao and the Bureau of Customs Port of Davao also arrested 11 crew members of MB Marites.
The smuggled cigarettes were intended to be delivered in Digos City for distribution in various retail outlets in the area.
The illicit brands confiscated were 325 master cases of President Red FF, 206 master cases of President Black Menthol and three master cases of Commissioner Green Menthol.
The vessel is now under the custody of Naval Forces Eastern Mindanao and to be turned over to BOC Port of Davao.
In Pikit, North Cotabato, local police operatives confiscated from an abandoned Mitsubishi van assorted brands of smuggled cigarettes based on an informant tip. Found inside the vehicle were two master cases and 20 cartons of the illicit brand Fort.
The van and the smuggled cigarettes are now under the custody of the local PNP while operatives are still looking for the two suspects who abandoned the vehicle.
The joint forces, meanwhile of BIR Revenue 16 – Cagayan de Oro, Philippine Navy, Philippine Army and the local PNP held simultaneous raids on several stores selling smuggled cigarettes in Valencia City and Kibawe both in Bukidnon.
Using Mission Orders issued by the BIR Revenue 16 – CDO simultaneously raided seven monitored and identified local suppliers and sub-distributors as well as the point of sales involved in the direct selling of assorted illicit cigarettes in the Poblacion Valencia City and Poblacion Kibawe.
Authorities were able to confiscate 90 master cases of assorted smuggled cigarettes but did not disclose the brands of the goods.
The same combined forces also swooped down on various stores selling illicit cigarettes in Talisayon and Balingoan both in Misamis Oriental.
Stores raided were Epoch Store, Panulaya Store, Gudilos Store, LRB Store, ELN Store and Jocelyn Store and confiscated from them assorted packs of illicit brands: Nelson, Soda, Cannon, Blast, Delta, Fort and Winston. Store owners were given stern warning that their business permits will be revoked should they continue on selling the illicit brands.