By Mike Baños
Two of the three Kagay-anon designers who were finalists made it to the podium of the Habi Kadayawan Luxe Wear Apparel and Fashion Accessories Design Competition, one of the flagship events of Davao City's 38th Kadayawan Festival.
Christopher Gomez was adjudged the Grand Prize winner in the Commercial Fashion Accessories Category with his "Panolong Clutch Bag", while Shine J. Casiño's "Higalaay Splendor" finished as Second Runner up in the Luxe Apparel category. Oscar Esteban Floirendo with his "Pusô" bag was also selected as one of five finalists in the Accessories Category (Commercial Category).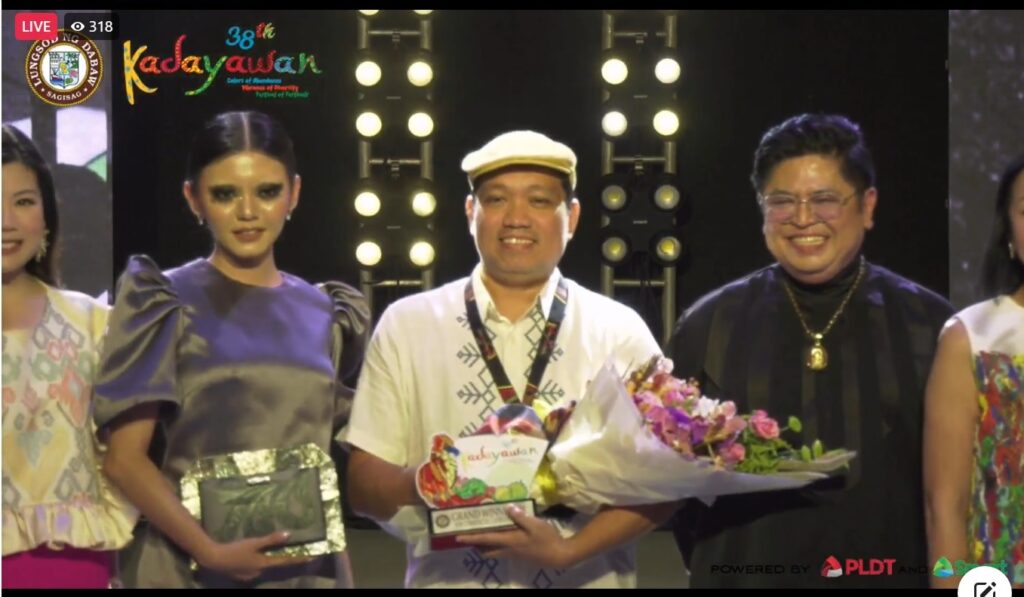 Casiño was previously a runner-up in the Luxe Apparel Category, while Gomez was a finalist in the Fashion Accessories Professional Category in the 3rd Habi Kadayawan Design Competition which was won by Patrick Gabutina of Tinabuan Arts & Crafts (also of Cagayan de Oro) as the grand prize winner.
The panel of judges for the Apparel Category included top fashion designers Virgilio "Barge" Ramos, Stephen "Steve" De Leon, and Philip Rodriguez, while three of the most renowned figures in accessory design in the Philippines comprised the Accessories Category Panel : Carissa Cruz-Evangelista, Carmina Sanchez-Jacobs, and Joyce Makitalo.
The Habi Kadayawan Luxe Wear Apparel and Fashion Accessories Design Competition returned after a two year hiatus with the theme "MindaNOW and Beyond" with the awarding ceremonies held on August 12 at the Ayala Abreeza Mall, to be followed by the public exhibition on August 13-31 at the same venue.
Chris Gomez is a multi-disciplinary creative and advocate of Sustainable Design. His many laurels include: Finalist, 2011 National Philippine Art Awards; Grand Prize winner (water-based category) 2012 Metrobank Art & Design Excellence Awards; Finalist, 2014 Look of Style Awards (British Council/Look Magazine); and Finalist, 3rd Habi Kadayawan Design Competition held August 2019 at Davao City.
As a Product Development Mentor accredited by the Philippine Center for Entrepreneurship, and a Product Design Specialist of Design Center Philippines (DCP), Chris has been a mentor to Kagay-anon designers eyeing to break the glass ceiling that has constrained them from attaining their full potential and define a Kagay-anon Design Paradigm instantly recognizable anywhere in the world.
As one of the spark plugs of Design de Oro, composed of graduates from two previous design workshops which aimed to build their capability through trainings with designers, Gomez has sought to keep local designers updated with trends, techniques, manipulation, up to the prices of saleable products.
Moreover, his design class modules were adopted by the Department of Trade and Industry's (DTI) One Town, One Product (OTOP) through the MODA (Modernong Obra, Desinyung Atin) Designer Manlilikha course, a virtual online program conducted September-November 2020 which graduated 125 aspiring designers all over the Philippines.
Featuring eight design leaders in their respective design fields from fashion, furniture to packaging and visual merchandising, MODA Manlilikha aimed at growing the capability and creativity of regional designers.
"As a program director, I want to level up the growing capacity of our designers to understand better design solutions and marketable products to be executed by our micro, small and medium enterprises (MSMEs)," Gomez said. The second phase of the program was conducted with design mentors from Manila, Cebu and Cagayan de Oro.
"Our 125 graduates will undergo a specialized program that best suits their design interests. We are finalizing the lists of mentors because we want our young designers to be better equipped with skills and design thinking."
Not the least, Gomez is the founder of Luna: Artisanal Space , a premium store now with two branches, where designers and artists can showcase and sell their crafts. "It's where small batch artisans and established brands in the region can sell their products to fill the growing demand for artisanal crafts."
A self-taught fashion designer and stylist Shine J. Casiño wants to bring her fashion ideas following another breakthrough milestone in her journey which includes stops with mentors Melvin Lachica, the late Cesar Gaupo and Avel Bacudio.
"I wanna go global. I want to bring the Mindanao Look to the World," he said in an earlier interview. This would entail modernizing the Mindanao Look focusing on the colorful tapestry of Mindanao's history and culture, he explains. Mix and match various elements of Mindanao's various cultures one step at a time depending on her inspiration. Not only for materials, colors but also fashion accessories.
For instance for her Habi Kadayawan 2019 entry, Casiño drew inspiration from the Maranao Okir and Langkit motifs and made liberal use of the Mindanao Silk being produced in Laguindingan, Misamis Oriental.
"Through my fashion ethic I want to highlight the History and Heritage of Mindanao Culture," she notes. "I love my city, my hometown Tagoloan, and I am proud of Mindanao's culture, people and its colors."
A UP Fine Arts graduate, Oscar Esteban Floirendo is a visual artist who is currently employed as curator of Xavier University-Ateneo de Cagayan's Museo de Oro.
Although he's still an admirer of traditional arts, he is more inclined to its contemporary forms, exploring different materials, processes and actively participating in design and art forums.
"My works are often mixed media and process driven, revolving on social and contemporary commentaries," he shared. "As an artist, one must continue to strive to evolve and improve, seek new learnings and learn new skill sets."
More recently, he's aspired to hone his skills as a designer and artisan, to make and build stuff, joining workshops and courses on design.To pursue his passion, he has established Floirendo's Creations, where he crafts art pieces that interest him such as toys for his son, wine holders which defy gravity, and various handicrafts  based on the motorela, Cagayan de Oro's iconic tricycle originally invented by his late father Rafael in 1967 when it won a Silver Medal from the Filipino Inventors Society.
####