BY JOEL C. ESCOL, Managing Editor
CAGAYAN DE ORO CITY – The Mindanao Daily News in cooperation with Veterans Bank and Ayala culminated its 10th Mindanao Business Leaders and Entrepreneur Awards yesterday, November 14, 2023 at the Ayala Centrio Mall Events Center.
Dante M. Sudaria, President & CEO of Mindanao Daily News said his newspaper company is proud to give awards for excellent business leaders and entrepreneurs, saying that their success and successful endeavors in different fields must be recognized.
"We should recognize their success in various fields of endeavors because they are worth emulating and a source of inspiration for generations to generations," Sudaria, founder of the "Sudaria Group of Publications," said.
He said ever since his newspaper is pro-development and progress and it will always be. Sudaria founded Mindanao Daily News, a daily tabloid newspaper circulating in Mindanao for decades. He also founded "Business Week Mindanao," a newspaper that focuses in business and economic reporting in the country. Sudaria also founded Metro Cagayan de Oro Times, a weekly newspaper for lifestyle, entertainment, education and history.
PRESIDENT'S MESSAGE
"Honored awardees, guests, good afternoon
The Mindanao Daily News Corporation, and
Businessweek Mindanao, its news bureaus and
offices, media partners and its project partner
Philippine Veterans Bank, welcome you all,
honorees and guests to today's 10th MINDANAO
BUSINESS LEADERS and ENTREPRENEURS'
AWARDS," Sudaria added.
He also said: "Also tonight, a highlight event will take place. It is
the holding of the 1st Mindanao Awards of
Distinction. This is to honor and recognize the
contributions of non-Mindanaoan business
leaders, their families and corporations. They are
largely based in the national capital regions,
Visayas and Luzon. Tonight we thank them and
their representatives for receiving the citations for
them in various categories.
Congratulations to the honorees tonight."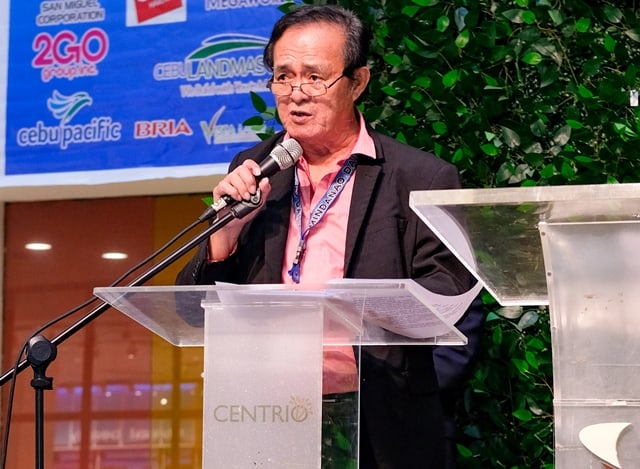 Editor-in-Chief Allan Mediante, chairman of the Selection Commitee also added that the awardees are a result of several weeks of screenings from various nominees submitted by the paper's Bureau Chiefs all over Mindanao.
The awardees were named based on categories and after a thorough selection process made by the selection committee several weeks after they were submitted by the paper's bureaus all over Mindanao. The awardees for this year include:
Outstanding Leader in Hotel Industry:
Acacia Hotel Davao
Philtown Hotel, CDO
Seda Hotel, Cagayan de Oro
Outstanding Mega Entrepreneur & Business Innovators
Dennis Uy, Davao City
Bigbys, Quality Foods Corporation
James Lee, Citi Hardware, Davao City
Outstanding Leader in Agri Industry
Hijo Resources Corporation, Tagum City
Jumalon Farm/JJ Skills Training & Assessment Center, Balabagan, Lanao del Sur
Outstanding Business Organization Leader
Arthur Mencius B. Quiblat – DMPI, Oro Chamber
Ray Talimio, Jr – President, Oro Chamber
Reggie D. Punongbayan, President, Iligan Chamber of Commerce
Outstanding Leader in Medical Services
Cagayan de Oro Polymedic Hospital
Bethel Baptist Hospital, Malaybalay City
Adventist Medical Center, Iligan City
Outstanding Leader in Housing Industry
Valencia Estates, Valencia City, Bukidnon
Outstanding Leader in Restaurant Industry
Bagong Lipunan Restaurant
Kagay-anon Restaurant
Outstanding Resort Industry Leader
El Salvador Beach Front Resort, Misamis Oriental
Initao Emperor Beach Front Resort
Waig Crystal Spring Resort, Maramag Bukidnon
Outstanding Food producer
Paula's Bukidnon Delights, Malaybalay City
Meat Up, Cagayan de Oro City
Steve's, Cagayan de Oro City
Outstanding Micro Entrepreneurs
Bodyguard Water Purifier Provider, Inc
Amaica Homes, Butuan City
RAC Industries
Mindanao Daily News President & CEO Dante M. Sudaria strikes a pose with her First Lady, Dr Rosemarie D. Sudaria for souvenir during the 10th Mindanao Business Leaders and Entrepreneurs Awards, held at Ayala Centrio Mall Event Center, yesterday, November 14, 2023.
——-
Meanwhile, the Mindanao Daily has also named its "First Mindanao Awards of Distinction" awardees and they were the following, to wit:
Business Innovator & Investor par Excellence
Jaime Augusto Zobel de Ayala & the Ayala Family
Henry Sy, Jr & the Sy Family
Lance Yu Gokongwei & the Gokongwei Family
Project Investor & Banking Innovator Par Excellence
Roberto de Ocampo, chairman, Veterans Bank
Nestor V. Tan, President & CEO, BDO Bank, Inc
Realty Investor & Home Developer Par Excellence
Manuel Villar, Chairman, Vista Land & Lifeescapes
Jose Soberano III, Pres. & CEO, Cebu Land Masters
Diversified Business Innovator Par Excellence
Manny Pangilinan, Chairman & President, Metro Pacific Investment Corp.
Guillermo D. Luchangco, Chairman of the Board & CEO, Pueblo de Oro Dev't Corp.
Andrew Tan, Chairman & Pres., MegaWorld Corp
Energy Resources Investor Par Excellence
Sabin M. Aboitiz & the Aboitiz Family, Aboitiz Power
Josephine Gotianun Yap & the Gutianun Family, FDC Investments
Cagayan de Oro Power & Lights Company (CEPALCO)
Social Services & Human Dev't Leaders Par Excellence
Miguel C. Villa-Real, 1st Vice President, Veterans Bank
National Exec VP, Veterans Federation of the Phils Sons and Daughters Association, Inc.
Dr Chito B. Baltazar, jr, President, PHINMA Education Network
Construction Industry leaders Par Excellence
Ramon Ang, President & CEO, San Miguel Corp.
William Belo, Founder Wilcon Depot
Business Investor Transportation Services Par Excellence
Frederic C. Dybuncio, Pres. & CEO, 2GO Group, Inc.
Leo Rey Yanson, Rural Transit Mindanao
President, YBC, Bacolod City
Logistics Industry leaders Par Excellence
Monsieur Michel Lhuillier, Founder & Chairman, MLuillier
Bobby Castro, President & CEO, Palawan Express
Antonio Claparols, President & CEO, JRS Express
Digital Banking Innovator Par Excellence
Orlando B. Vega, Pay Maya Founder & CEO
Vijay Manoharan, Chief Executive, CIMB Bank
This year's presentors of the First Mindanao Awards of Distinction include the following: Centrio, Soroptimist International-Cagayan de Oro, Rotary District 3870, Institute of Electronic Engineers of the Philippines and Jaycees Kagayhaan Gold.