By Mike Baños
An integrated, holistic and multi-sectoral approach is urgently needed to address the increasing water demand in Northern Mindanao.
"For us here in Cagayan de Oro City, we have recognized the magnitude of our challenges with regards to all four aspects of the water security discussion," said Cagayan de Oro City Mayor Rolando "Klarex" Uy in his message at the recently concluded Northern Mindanao Integrated Water Security Summit held May 25-26 at the Seven Seas Waterpark & Resort at Opol, Misamis Oriental.
"We recognize that we need to secure and distribute clean potable water for our households and inhabitants…secure our ecosystem to ensure that we will have the needed water supply for the constantly growing economic activities in the city, be it in agriculture, manufacturing and trade…that we have lots of things to do with regards to sanitation…and we have experienced the pains of how vengeful the natural forces of water can bring us if we continue to fail the environment," he further stressed.
In his presentation "Regional Water Demand Scenario" Engr. Dexter S. Lo, founding director of Xavier Ateneo's Engineering Resource Center (ERC) stressed the urgent need to note how the increasing rate of urbanization could accelerate water demand across the region.
Mr. Lo cited the need to forecast based on following factors which affect increasing urban water demand: demographics and land use, water supply and usage, and climate change. He also cited income, and other socio-cultural factors such as water/wastewater pricing, regulation, restrictions, knowledge and awareness, technical innovations, and the presence of water service companies, which could also affect water demand.
Northern Mindanao's (Region X) projected water demand is expected to reach 368 million cubic meters (MCM) by 2045, based on the projected population of 1.871 million by that date, based on the UN metric of 120 liters per capita daily (lpcd) for urban and 60 lpcd, but does not include agriculture, which consumers the largest volume of water among all industry sectors, estimated at 75-80% of total consumptive demand in the country.
"Of our 2017 water use in Region X estimated at 37, 145 MCM annually based on awarded water permits, approximately 87% (32,355.38 MCM) is allocated for power generation categorized under non-consumptive use. Irrigation consumes the largest volume with 65% allocation; industrial sector 26%, and domestic sector only 5.7% or 4,798.94 MCM was allocated for consumptive use," Mr. Lo said.
However , he cautioned that the baseline data is from 2015, but increasing urbanization could alter the projections for 2045.
Water availability per province (cu.m./person/yr) as of 2015 population shows that Bukidnon enjoys the largest buffer with 7,020 cmpy with Lanao del Norte the only province indicating water stress at 1,373 cmpy vis a vis the UN standard of 1,700 cmpy.
Groundwater availability
While extensive and highly productive aquifers with high recharge potential in Region X can only be found around Cagayan de Oro, these same areas will be influenced by increasing temperature, decreased precipitation and increasing population density.
Mr. Lo said groundwater is important since it is easier to process for potability vs surface water which can be affected by precipitation which can make it more expensive to process.
Lanao del Norte and the coastal towns of Misamis Occidental have fairly extensive and productive aquifers with Interior towns having local and less productive aquifers, as do most of the towns in Bukidnon.
The western towns of Misamis Oriental have mostly local/less productive aquifers except for the coastal areas of Laguindingan, Alubijid, EL Salvador, and Opol which have fairly to less extensive and productive aquifers with low to moderate, potential recharge.
The rest of Cagayan de Oro and Camiguin have rocks without any known significant, groundwater obtainable through drilled wells
Water resources potential and annual rainfall (mm)
Of the five provinces of Region X, Bukidnon enjoys the largest water potential 9,259 MCM surface water, 676 MCM ground water (GW) and 2,318mm annual rainfall, with Camiguin at the opposite range with 210 MCM surface, 15 MCM GW/1,937 mm annual rainfall.
Misamis Oriental has 3,126 MCM surface/228 MCM GW/1,535 mm AR; Misamis Occidental 1,813 MCM surface, 132 MCM GW and 1,670 mm AR; and Lanao del Norte 1,280 MCM surface, 120 MCM GW and 1,948 mm AR.
Citing the IPCC Sixth Assessment Report: Climate Change 2021 which reports Climate Change Affecting World Regions (1950-2021), SouthEast Asia (including the Philippines) can expect hot extremes and heavy precipitation.
As a result, Region X will be warmer according to Pagasa, the Manila Observatory, and the USAID Be Secure Project, which is likewise affirmed by the Phil Climate Change Report 2020.
Potential Impacts on Water Resources
Thus, the expected hot extremes can result in the decline in precipitation and longer dry spells which can lead to water service disruption; while locations with increase in intense precipitation events pose a challenge to water management and flood control.
Further, Extreme Rainfall Events will increase dam siltation and reduce their useful lifetimes, while the increase in temperature will cause surge in energy demand while longer dry periods will reduce efficiency of power plants.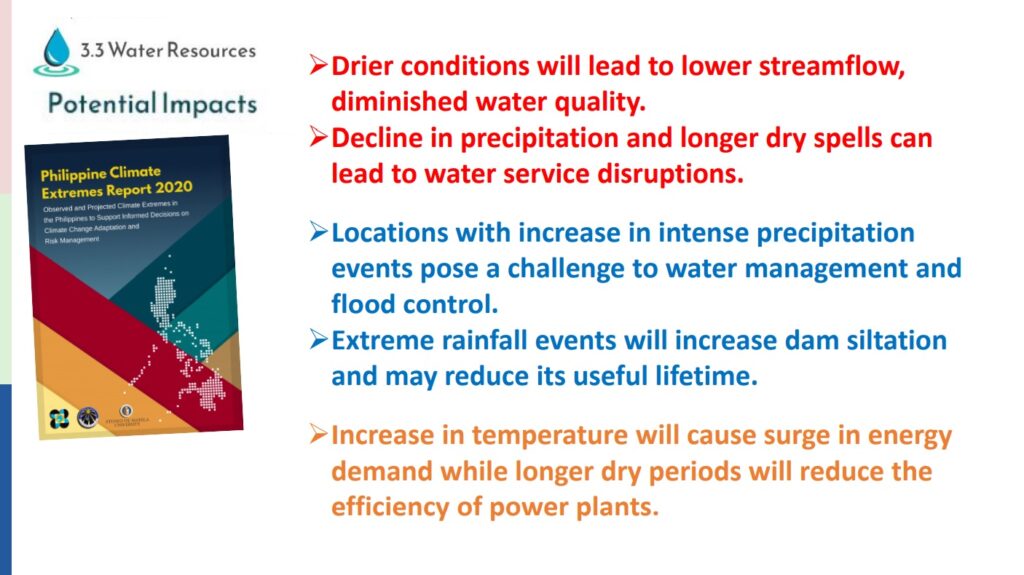 Adoption Options
Mr. Lo presented the summit with a comprehensive menu of adoption options including improving water supply, water quality and flood control.
"Development is necessary but we have to be conscious and conscientious of what we are doing, he urged. " We can always integrate pockets of green like parks, retaining ponds, which can be used for business, without the need for resorting to big ticket infra projects like drainage canals, which are necessary but not the only solution which can give us a better chance. We can marry nature based with gray solutions, such as the restoration of our forest cover."
"Para kanatong tanan nga ania karon dinhi, put in all the discussions the concerns of your communities, with regards to drinking water, to water sanitation, to water needed by all your economic activities and to activities of preserving your water resources," Mayor Uy said.
"Look into development interventions that will tame the destructive forces of water and environmental preservation programs that will conserve and preserve our water resources. Ang dagan sa tubig, walay boundaries. Angayan lang nga mahisgutan usab kung asa magkatinabangay ang mga lungsod, siyudad ug lalawigan."
In response, Clara Marie G. Elizaga, Vice President of Italpinas Development Corporation, an Italo-Filipino joint venture which has pioneered green architecture and engineering in its real estate projects in Cagayan de Oro, remarked how water sustainability has so far not resonated with most residents.
"Very few people understand water sustainability," Ms. Elizaga noted. "We need to promote it across all sectors because as the city grows, the need for water grows, along with all the problems and issues which arise with urbanization."
She added that while the private sector is already a step ahead in addressing water sustainability, she urged the LGUs to provide them with further options where they can actively participate in LGU projects with which they can tie-in their corporate social responsibility (CSR) as well. ###