Globe, through its online K-culture community, engages fandoms of popular South Korean girl groups in promoting women empowerment and girls' rights to support World Vision's #GirlsCan campaign.
The long-running campaign has successfully given thousands of young girls a chance for a brighter future.
KmmunityPH is working with BLINKs (Black Pink), MIDZY (Itzy), Once (Twice), RevLuv (Red Velvet), MY (aespa), and many others to make a positive impact on the lives of Filipino women.
Through Globe Rewards, the fandoms have raised P51,715 for World Vision's various initiatives that aim to support women entrepreneurs, combat the exploitation of children, and improve maternal and child health, among others.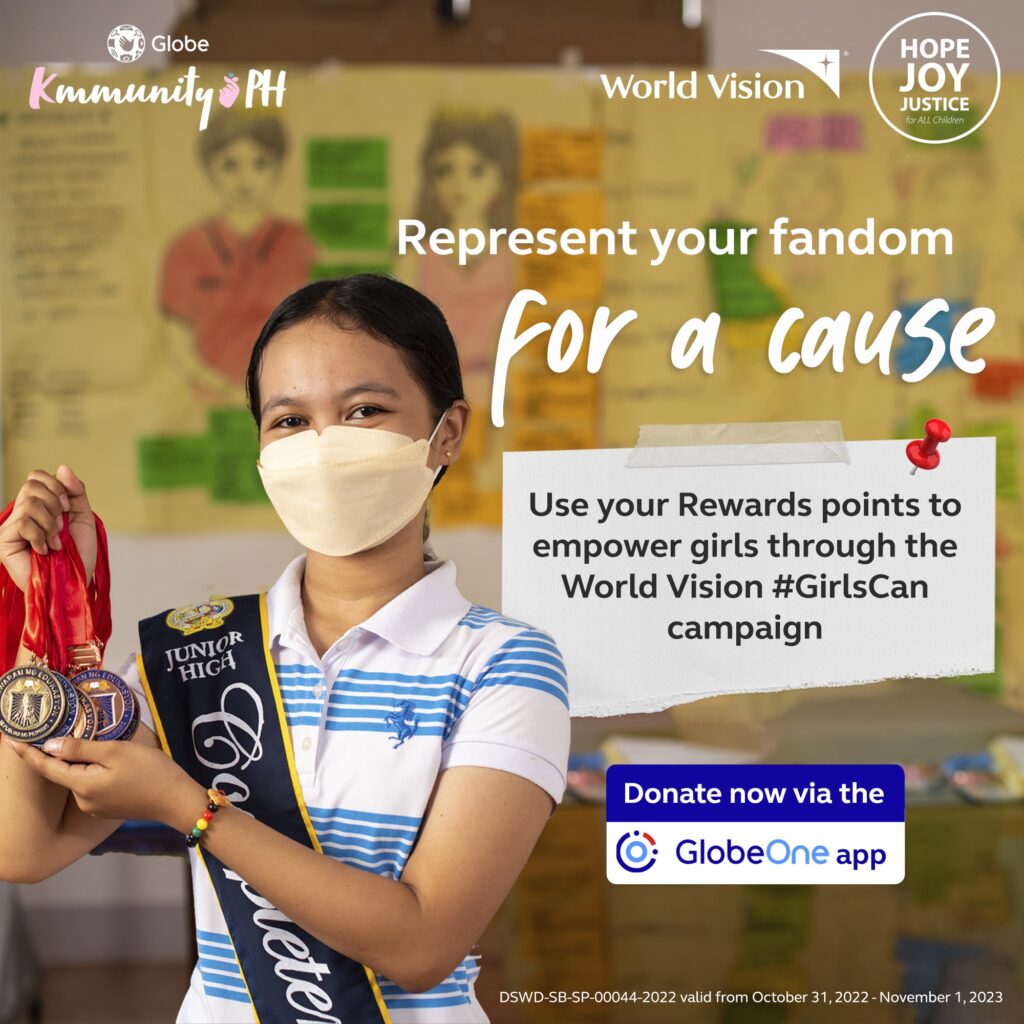 World Vision programs include the Sustaining Women's Economic Empowerment Thrust (SWEET) project, Project ACE, Maternal and Child Health Programs, the Mother-Baby Friendly Philippines Project, and the Menstrual Hygiene Campaign.
The partnership between Globe and World Vision is aligned with the company's sustainability strategy of Caring for People, which promotes diversity, equality, and inclusivity.
"As a company that helps millions of people connect with their passions, including K-pop, we believe in the power of community to create positive change. Our #KmmunityPHForGood allows us to engage with our customers and stakeholders to do good. This time, we engage empowered girls to pay it forward and empower other girls. By working together, we can make a real difference in the lives of many," said Mike Magpily, Head of Customer Segment Strategy.
"World Vision is grateful for the support of KmmunityPH in our efforts to empower girls and promote their rights. With our various collaborations with Globe and through this partnership, we can provide vital resources and support to vulnerable girls, helping them achieve their dreams and reach their full potential," said World Vision National Director Rommel V. Fuerte.
Violence against children, particularly online sexual exploitation, remains a major concern in the Philippines, with a 264% increase in cases according to data from the Department of Justice. Additionally, over 2 million girls drop out of school and more adolescent girls get pregnant and give birth every day, according to World Vision.
World Vision celebrated the fourth year of its #GirlsCan campaign, which was launched on the International Day of the Girl on October 11, 2022. They also strengthened their Safeguarding Policy for children. Globe and World Vision are encouraging everyone to join the fundraising campaign through Globe Rewards until March 2023.
To learn more about Globe, visit www.globe.com.ph.
To know more about World Vision in the Philippines, please visit www.worldvision.org.ph or follow World Vision's official social media pages /worldvisionph on Facebook, @worldvisionphl on Instagram, and @worldvisionph on Twitter.
####