By Mike Baños
A key advisor of the USAID Safe Water Project in the Philippines has advised water stakeholders in Northern Mindanao that updating key water related data is crucial to the successful formulation of an integrated, inclusive water security framework.
USAID Safe Water Advisor Dr. Rachel M. Beja, stressed this key point in her presentation "Provincial Integrated Water Security Plan Formulation Rudiments" rendered during the Northern Mindanao Integrated Water Security Summit held May 25-26, 2023 at the Seven Seas Waterpark & Resort in Opol, Misamis Oriental.
"A striking feature of the framework is that it is evidence based. You just don't cite solutions and interventions without understanding what are the root causes of all this, and we have so many root causes, so you have to prioritize which one you will first address so you can maximize the efficiency of your resources," Ms. Beja noted.
"You cannot conduct water security assessment without current data, so you will have evidence based answers to every question raised, and that can only be possible when you do water security assessment based on data. This will also enable you to rank priorities according to their root causes," she added.
To illustrate, Ms. Beja pointed out that while the water availability data for each province is already dated at 2015, the JICA study it uses as a benchmark is even more dated from 1998. Since then, forest cover, climate change and increasing population have changed water availability in the interim making the latest water availability data (2015) very much outdated. She also pointed out how the UN standard of 1,700 cu.m. of water annually per capita covers all uses of water, not merely domestic, which constitutes a mere fraction of consumptive water use.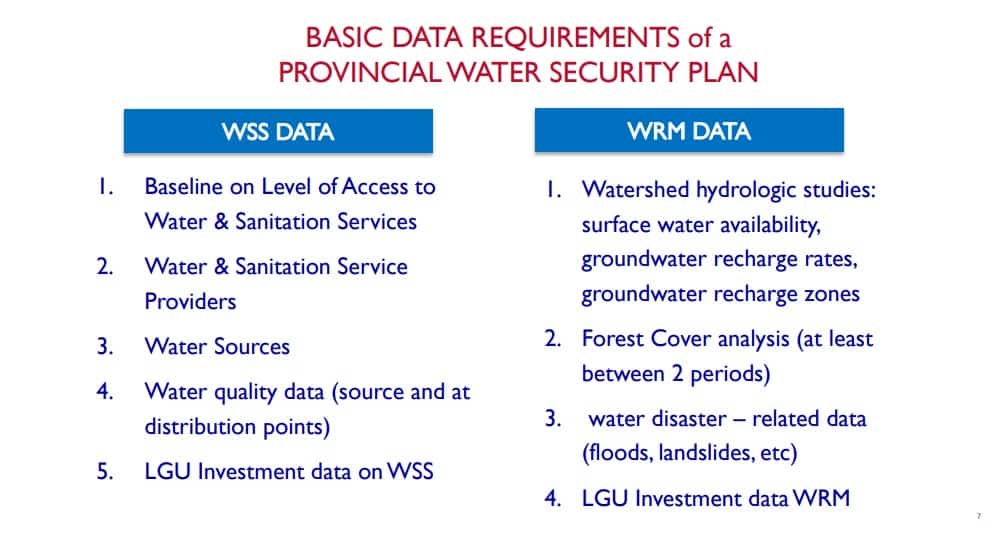 Basic Data Requirements of a Provincial Water Security Plan
The National Water Resources Board (NWRB ) and Japan International Cooperation Agency (JICA ) identified nine urbanized areas in the country, facing water demand challenges in the next several years, three of which are in Mindanao (Davao, Cagayan de Oro City, and Zamboanga), (JICA 1998).
A 2015 study by the World Resources Institute (WRI) projects the Philippines will experience a "high" degree of water shortage by 2040. It ranked 57th among likely most water stressed country in 2040 out of 167 countries with a 3.01 high water stress level score, meaning, at least 40 percent to 80 percent of the country's total water supply would have been already withdrawn, or gone, by 2040, with agriculture expected to bear the brunt of the water shortage. The study defines water stress as "the ratio between total water withdrawals and available renewable surface water at a sub-catchment level. (Rappler/WRI, 2015)
USAID Safe Water
Safe Water is the USD18-million flagship project of USAID in the Philippines for water and sanitation sector development which aims to improve water security of water-stressed communities in the Philippines through increased access of underserved or unserved communities to safe water supply and sanitation services; and more sustainable water management of surface and groundwater resources to meet human, economic and ecosystem needs.
The project has three interrelated objectives: increased access to resilient water supply and sanitation services; improved water resource management; and strengthened water sector governance.
It aims to provides Philippine local government units, water service providers, and watershed councils in target provinces with the information, incentives, and partnerships they require to identify and address barriers to a water-secure future—yielding life-saving gains in access to water supply and sanitation services for unserved and underserved households in the Philippines' most water-stressed communities.
It operates through offices in Manila and three focal sites: Puerto Princesa City and Palawan Province, Bacolod City and Negros Occidental Province, and General Santos City and Sarangani Province.
Hierarchy of Plans
The water security framework of USAID Safe Water is a pioneering approach integrating service provision and water resource management which has been used as a platform for cascading the Philippine Water Supply & Sanitation Master Plan or PWSSMP (an operational plan of the UNSDG which is further adapted in NEDA's Ambisyon Natin 2040 and in the Phil Development Plan (PDP). Thus, the PWSSMP is focused on water supply and sanitation, and water resource management.
"When we did water security planning at the provincial level, we were able to demonstrate how the framework was able to create the synergy needed to avoid unnecessary duplication efforts and spending of resources at the municipal/city, province, regional and national levels," Ms. Beja shared. "By doing this, the LGUs contribute to the national goals (PDP, Ambisyon Natin 2040) and the global goal (UN SDG NO. 6)."
"We still have no strategies for agriculture and energy at this point, but this is something that you can begin with," she added.
Provincial Integrated & Inclusive Water Security Framework Plan
The framework postulates how the 3 pillars that support water security interrelate and interconnect with each other: i) service provision, ii) improved water resource management, and the governance sector which provides regulatory reforms and needed financing, since without funds, nothing will happen.
"Adoption at the provincial level is crucial for budgeting, since without budgeting nothing is going to happen. An order should be issued to mandate its adoption at the municipal and city levels, and that's where the cascading and investment will happen."
When first starting doing plan strategies and interventions, Ms. Beja said it is important to note that water resource management connects with your service provision and needs the enabling environment of strengthened governance.
She presented two lenses in talking about water security using this framework.
"There cannot be a water secure state if we are not able to meet universal access, in other words, everyone must have access to safe water supply and sanitation," Ms. Beja emphasized. "Our context on water security is focused on domestic supply, but with a sustainable water management aspect. The strategies we have introduced in the plan are more on achieving universal access for each and every household."
To further simplify the ten steps in PIWSP formulation and implementation process, Ms. Beja summarized them in five milestones.
"To gain support for your draft water security plan, do the water forum or summit where you can present concrete strategies and interventions detailing potential projects and investment needs to enable all stakeholders to be aware of which are your priorities."
Water Security Challenges – National & Regional
Current water security challenges facing the Philippine archipelago include burgeoning populations, unsustainable land uses, and deficient wastewater services. At the center of the challenges is water—a steady, dependable supply is increasingly elusive in many parts of the country as flows oscillate between too much or too little. Unfortunately, such adversities will only increase in the face of climate change, which is expected to further exacerbate ecological imbalances as climate variability becomes the new normal (DAI, 2019).
Specifically, Ms. Beja identified two key water security challenges that planners at the national and regional levels face in planning their frameworks.
One is the absence of sewerage and septage systems in Highly Urbanized Cities (HUCs), which is long overdue. She noted how all domestic wastes are dumped into our bodies of water untreated, and because we don't have septage management programs and community wide treatment and desludging of septage, the discharge from septic tanks will eventually pollute and contaminate our water sources.
"While we are still better off in Region X compared to the national level of access to safe water, there are still a lot who don't have access to safe water, and our sanitation is worse off with still open defecation. This aspect can be cascaded to the municipal and city levels where they can be further granulated to the barangay level, so you will know where to focus your priorities."
She lauded Gingoog City as the only LGU in Region 10 currently with a septage management program.
Transboundary Water Resources
Another challenge to planners is the transboundary nature of water resources in Northern Mindanao.
"If your water resources transcend boundaries, the management of these already must already transcend political boundaries. If the forest cover upstream is denuded, the downstream areas will bear the brunt of the effects of the flooding. This is one key issue which needs to be addressed," she stressed.
You can view Ms. Beja's recorded presentation through this link: https://www.facebook.com/DOST10Ph/videos/271812405263646 starting at 45:00:00 of the timeline mark
####